Get Your Personalized Trek Progression Chart
Question 1: Choose your BRS (Bikat Rating Scale) Number.
Find out the BRS level (measures difficulty level) of the toughest trek you have completed from the list.
The BRS number has been indicated in brackets beside the trek name (in alphabetical order).
If you are yet to do your first trek, please select 0.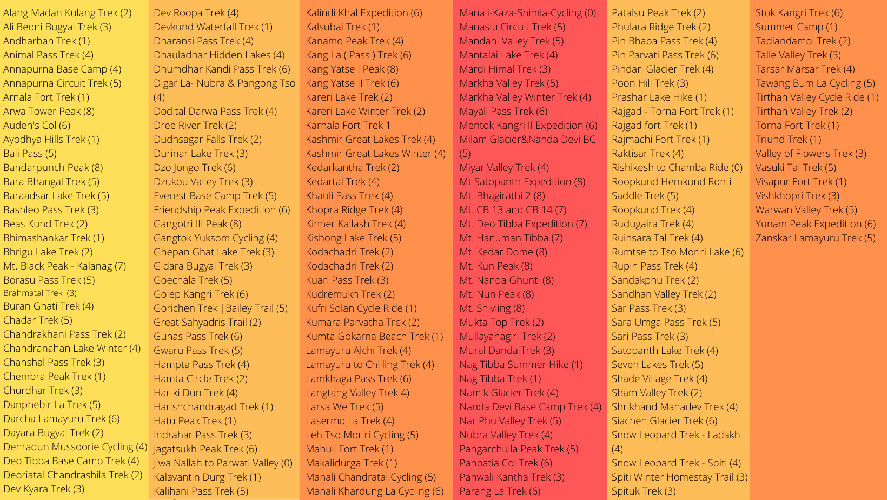 Note: Pinch to zoom in if viewing on mobile.
Now select the BRS number on the Scale below to move on to the next question.
Do you carry your backpack while trekking?
No, I offload my backpack
I am yet to do my first high altitude trek
When was the last time you went on a high altitude trek?
I am yet to do a high altitude trek
How would you describe your activity level in a day?
Note: Activity level is measured by the number of hours of movement (i.e. hours outside of sitting/sleeping) in a day. This movement could be in the form of cooking, cleaning, working out, etc.
At least 8 hours or more a day
How would you describe your fitness level?
Can jog 5 kms in 40-50 mins and 10 kms in 90-100 mins / the equivalent in any workout
Can jog 5 kms in 30-40 mins and 10 kms in 75-85 mins / the equivalent in any workout
Can jog 5 kms in 25 mins or less and 10 kms in 60 mins or less / the equivalent in any workout
{"name":"Get Your Personalized Trek Progression Chart", "url":"https://www.quiz-maker.com/Q7H5QZ3SN","emurl":1,"txt":"Move from trekking into mountaineering using this Personalised Trek Progression Chart. Based on the BRS Rating of the toughest trek you have done so far and your fitness\/activity level, this progression chart ensures you step up your trekking game safely. The BRS rating tells us about the kind of terrain, altitude and climatic conditions you have been exposed to in the past while your fitness\/activity level gives us an idea of what you can withstand on your next trek.","img":"https://cdn.poll-maker.com/67-2926555/thumbnail-2.png?sz=1200-00000000001000005300"}