Hampton Roads World Affairs Council What in the World? Weekly Quiz – June 20-26, 2022
The NATO Secretary General, Jens Stoltenberg, said the war in Ukraine could last years. Russian forces have focused on capturing the Donbas region in the east after giving up on its initial war aims of taking THIS national capital city.
Russia's invasion of Ukraine and its naval operations in the Black Sea may lead to severe shortages of THIS commodity, a key Ukrainian export, across the globe, especially in Africa and the Middle East.
The European Court on Human Rights ruled to stop flights from Britain to THIS African nation carrying asylum-seekers. The UK deportation policy is aimed at deterring migrants from entering.
The White House announced President Biden will visit Saudi Arabia in July and will meet with Crown Prince Mohammed bin Salman, known as "MBS." Biden has called Saudi Arabia a "pariah" and has all of these issues to address EXCEPT THIS one.
Saudi provocation of Iran
Murder of Jamal Khashoggi
Domestic humanitarian issues
Lithuania announced it would bar shipments across its territory to THIS non-contiguous Russian enclave that is wedged along the Baltic Sea between Poland and Lithuania.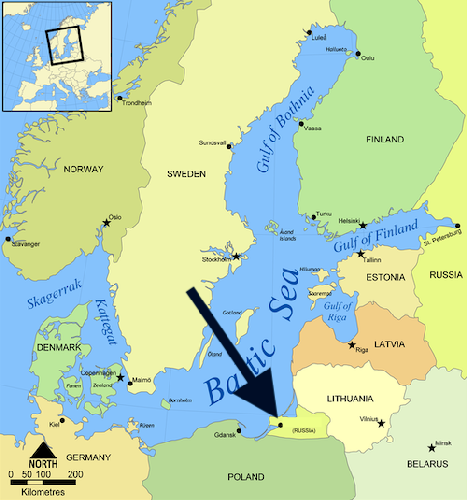 The leaders of France, Germany, Italy and Romania visited Ukraine and met President Zelensky coming away with commitments to the beleaguered nation including membership in the European Union. THIS German Chancellor said they had a clear message, "Ukraine belongs to the European family."
The bodies of an indigenous rights activist and a British journalist were found after ten days of searching for the missing pair in THIS country. Dom Phillips, the advocate for tribal groups, had received death threats in response to his activism.
Democratic Republic of Congo
British Home Secretary Patel approved an order to extradite THIS Wikileaks founder to the United States to face espionage charges, an order that is likely to be appealed.
The European airline RyanAir abandoned a controversial screening practice for passengers carrying THIS country's passports. The budget carrier required them to demonstrate fluency in the Afrikaans language.
The Economist reported on oppression of the 200 million Muslim minority in THIS country saying, "Taboos against offending the Muslim minority are falling by the day. A former BJP officeholder, campaigning in the state of Uttar Pradesh, boasted recently that local Muslims "have stopped wearing skull caps…If you vote for me again, they will start wearing tilak", a mark on the forehead worn only by Hindus."
{"name":"Hampton Roads World Affairs Council What in the World? Weekly Quiz – June 20-26, 2022", "url":"https://www.quiz-maker.com/QG2J4F93L","txt":"The NATO Secretary General, Jens Stoltenberg, said the war in Ukraine could last years. Russian forces have focused on capturing the Donbas region in the east after giving up on its initial war aims of taking THIS national capital city., Russia's invasion of Ukraine and its naval operations in the Black Sea may lead to severe shortages of THIS commodity, a key Ukrainian export, across the globe, especially in Africa and the Middle East., The European Court on Human Rights ruled to stop flights from Britain to THIS African nation carrying asylum-seekers. The UK deportation policy is aimed at deterring migrants from entering.","img":"https://www.quiz-maker.com/3012/images/ogquiz.png"}