Churchill and D-Day Quiz
With the arrival of American commanders in April 1942, Churchill was interested in Operation Bolero, but less keen on Operations Sledgehammer and Roundup. What was Operation Bolero?
The stationing of a large American force in Britain
A plan for an Allied Landing in the Pas-de-Calais
In May 1942, under pressure to start a 'second front' in France, Churchill revived the idea he had had during the First World War for a large structure which would support an amphibious invasion. What was the idea?
An underground pipeline for fuel
An artificial harbour to be towed across the Channel
In April 1944, Churchill became reluctant to approve of a plan to attack where in France?
Through the Pyrenees from Spain
Churchill wanted to be present when the Allies landed in France and suggested he would go on board which British warship to watch the landings.
Who was responsible for the decision to postpone the Allied landings in France by 24 hours on 5 June 1944 due to bad weather?
Which British commander did Churchill help keep in his position, and was responsible for modified armoured vehicles or 'funnies' that helped the Allies to land on D-Day?
On which date did Churchill first visit British troops in northern France following D-Day?
Whilst travelling to Normandy after D-Day, Churchill asked a ship's captain to do what as they approached Normandy.
To fire at German gun emplacements on the coast
To sail past the Allied Naval flotilla so he could wave to all the troops landing on the beaches
Drop him in a landing craft so he could 'storm' the beaches in front of the troops
Which type of amphibious vehicle, with the nickname of an animal, did Churchill use to get ashore on the Normandy beaches?
When Churchill visited British troops in Normandy, he saw smoke over which French city, the scene of fierce fighting between the Allies and Germans?
Churchill pats General Sir Bernard Montgomery's dog in Normandy, 7 August 1944. What was the dog called, named after an enemy?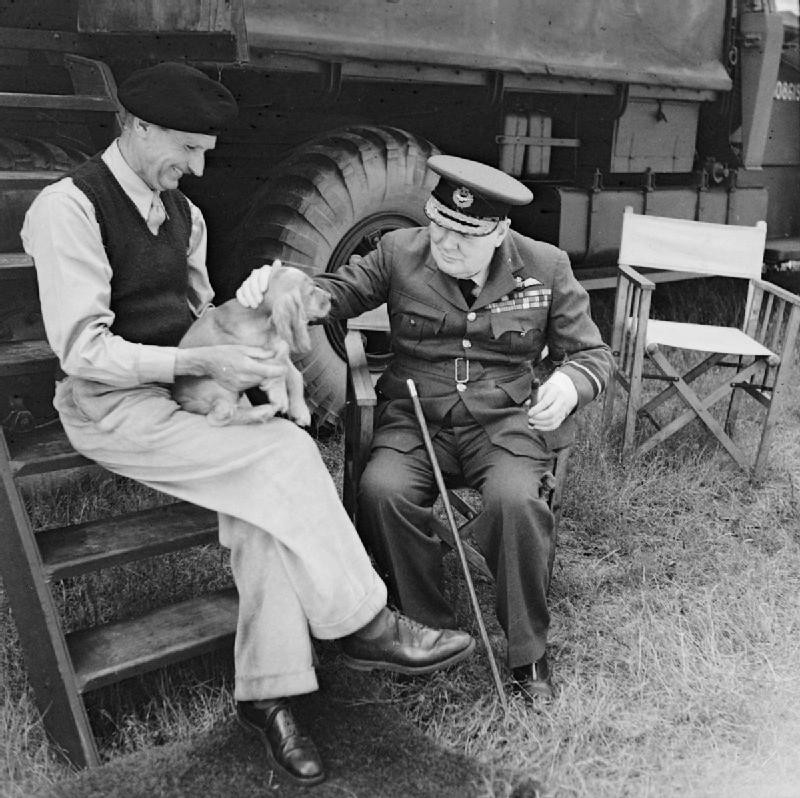 © IWM (B 8766)
What fell on London for the first time on 13 June 1944 just days after the D-Day landings, which meant Churchill had to return to his underground annexe?
Bombs dropped by new German Jet aircraft
Whilst touring the Normandy beachhead in July 1944, Churchill visited a particular type of field kitchen that provided what, as he was keen for British troops to be provided with it?
A mobile bakery for bread
A mobile 'Fish and Chips' kitchen
A mobile bar for Beer and Ales
Whilst Churchill was visiting Italy in 1944, he was receiving reports of the German army in Normandy being encircled near where?
Churchill and General Charles de Gaulle walk down the Champs-Élysées. What was significant about the date of their walk?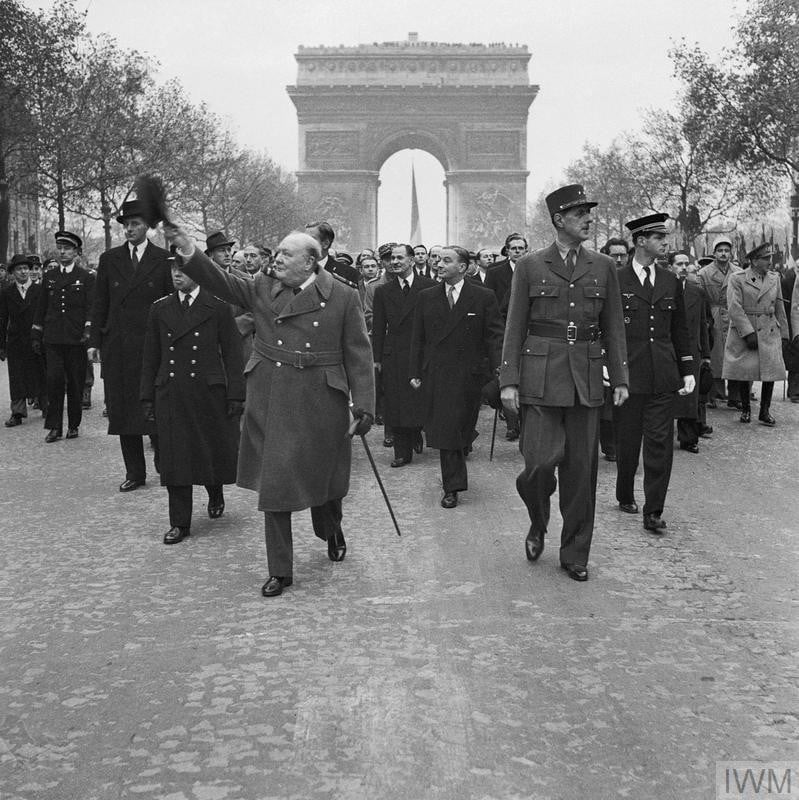 © IWM (BU 1292)
It was 11 November 1944, and the Armistice Day parade
It had been 60 days since Allied troops had landed on D-Day
It was exactly 5 years to the day since Paris had fallen to the Germans
{"name":"Churchill and D-Day Quiz", "url":"https://www.quiz-maker.com/QROLMFXO6","txt":"With the arrival of American commanders in April 1942, Churchill was interested in Operation Bolero, but less keen on Operations Sledgehammer and Roundup. What was Operation Bolero?, In May 1942, under pressure to start a 'second front' in France, Churchill revived the idea he had had during the First World War for a large structure which would support an amphibious invasion. What was the idea?, In April 1944, Churchill became reluctant to approve of a plan to attack where in France?","img":"https://www.quiz-maker.com/3012/images/ogquiz.png"}