Workplace Health & Safety Plan & Framework (Employee)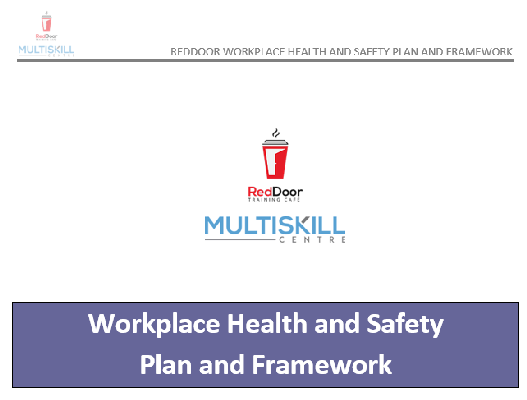 Workplace Health & Safety Plane & Framework
Our aim is to eliminate or minimize the risk of injury to people and the risk of damage to plant and equipment
Managers/Supervisors
Provide and maintain a safe and healthy work environment including eliminating or minimising all workplace hazards as far as reasonably practicable

Provide and maintain safe plant

Ensure the safe use, handling, storage and transport of hazardous substances

Ensure safe systems of work that comply with all organisational policies and procedures and legislation

Provide adequate information, instruction, training and supervision to ensure health and safety.

Consult with employees to enable them to contribute to decision making that affects their health and safety at work
All Employees and Participants
Use the personal protective equipment supplied by MultiSkill Centre.

Notify supervisors immediately of any unsafe conditions.

Report all incidents

Must not wilfully injure himslef or herself, or others.
Induction of New Employees
Induction training for new employees, participants, contractors and visitors are an important aspect of workplace health and safety at MultiSkill Centre
Inductions for equipment and tools must also be completed to ensure adequate training before tools are used!
Managers and Supervisors have the responsibility of ensuring employees follow WHS policies and procedures, identify and report on any incidents and hazards as well as a range of training requirements to ensure health and safety.
When starting as a new employee, you do not need to be inducted on any tools or equipment if you already know how to use it?
View the Workplace Health and Safety Plan and Framework here:
I acknowledge that I have read, understand and will abide by the above named policy
{"name":"Workplace Health & Safety Plan & Framework (Employee)", "url":"https://www.quiz-maker.com/QZ0RJEG6","txt":"Workplace Health & Safety Plane & Framework   Our aim is to eliminate or minimize the risk of injury to people and the risk of damage to plant and equipment, Managers\/Supervisors                 Provide and maintain a safe and healthy work environment including eliminating or minimising all workplace hazards as far as reasonably practicable Provide and maintain safe plant Ensure the safe use, handling, storage and transport of hazardous substances Ensure safe systems of work that comply with all organisational policies and procedures and legislation Provide adequate information, instruction, training and supervision to ensure health and safety. Consult with employees to enable them to contribute to decision making that affects their health and safety at work, All Employees and Participants Use the personal protective equipment supplied by MultiSkill Centre. Notify supervisors immediately of any unsafe conditions. Report all incidents Must not wilfully injure himslef or herself, or others.","img":"https://www.quiz-maker.com/3012/images/ogquiz.png"}